Apartments have taken over the housing market due to increasing population growth and the rising preference for modern living spaces. The same is the case with Lahore. The demand shift of Lahore has turned towards vertical housing from horizontal. People are more inclined towards buying apartments in Lahore than housing units. Among the top developed areas in the city, Bahria Town Lahore and Bahria Orchard stand out as excellent investment opportunities, particularly for those seeking apartments in installments. The types of apartments are further categorized into studio apartments, 1-bed apartments, 2-bed apartments, and 3-bed apartments.
Studio Apartments
Studio apartments in Lahore combine the living room, bedroom, and kitchen into a single open space with a separate bathroom. Some developers also offer studio apartments in installments in Lahore.
They are usually smaller than other apartment types and are suitable for those who don't require a lot of space or have a limited budget. Some of the best places are studio apartments in Bahria Town Lahore, Studio Apartments in Bahria Orchard Lahore, and many more.
1-bedroom Apartments: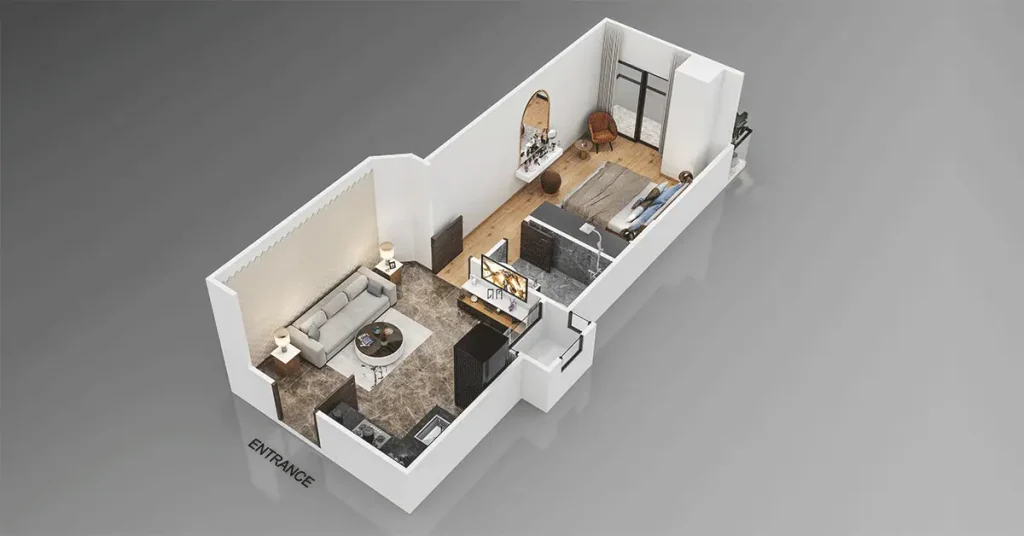 One bedroom apartment in Lahore consists of a separate bedroom, a living area, a kitchen, and a bathroom. This type of 1-bed apartment in installments in Lahore also provides more privacy and space than a studio apartment, making it suitable for individuals or couples who want more room but still prefer a relatively compact living space.
2-bedroom Apartments:
Two bedroom apartment in Lahore includes two separate bedrooms, a living area, a kitchen, and one or more bathrooms. The kind of 2-bed apartments on installments in Lahore is ideal for small families, roommates, or individuals who need an extra room for various purposes, such as a home office or a guest room.
3-bedroom Apartments:
Three bedroom apartment in Lahore features three separate bedrooms, a living area, a kitchen, and two or more bathrooms. The options of 3-bed apartments in installments in Lahore are generally meant for larger families or groups of people who need more space and bedrooms to accommodate everyone comfortably. One can easily find 2-bed apartments in Lahore in Bahria Orchard Lahore, and many more options are there for us.
Type of Apartments in Pakistan
The types of apartments currently available in Pakistan are of various types discussed below:
Standard Apartments: Standard apartments are the most common type in Lahore. They usually offer a terrace garden, lift, security, shared car parking, and sometimes a gated community.
Luxury Apartments: Catering to the high-end market, luxury apartments provide premium amenities such as high-quality finishes, modern appliances, rooftop gardens, Shopping malls, car parking, and many more.
Duplex and Penthouse Apartments: Duplex and penthouse apartments offer a unique living experience with multiple floor levels, spacious terraces, and roof gardens.
Serviced Apartments: Serviced apartments are fully furnished units with hotel-like amenities. They are an excellent choice for expatriates, corporate professionals, and tourists looking for a hassle-free accommodation option.
Low-Cost Apartments: Aimed at the middle-income group, low-cost apartments provide essential amenities and basic living facilities at a more budget-friendly price point.
Reasons to Invest in Apartments?
Apartments have become a popular choice for residents and investors of Lahore for several reasons. The reason to invest in apartments is that the city's population density has led to an increased demand for housing solutions that utilize space efficiently. Apartments are an excellent way to cater to this demand while offering a range of amenities and facilities within the same place.
The second reason to invest in flats is that apartments often come with additional benefits such as security, maintenance, and access to downtown areas, making them attractive options for families, professionals, and students. Furthermore, apartments are generally more affordable compared to independent houses or plots, making them accessible to a broader segment of the population.
The third reason to invest in the mix used building is that they provide an opportunity for high returns as compared to other housing units or plots as it caters to a large number of populations whose investment budget ranges from Rs.50,00,000 to Rs.60,000,000 and investing in early development phases of any project provides immense opportunity for high returns when the project is either in the final stage or gets completed because then the prices often increase in multiple of the booking price.
Investment in Apartments in Lahore
Lahore is the center of business and educational centers for most of the country, leading to the growing influx of migrants seeking accommodation for living or investment purposes. As a result, the demand for investment in apartments in Lahore will likely increase, making them a promising investment option.
Lahore's real estate market has shown consistent growth over the past years. The city's expanding infrastructure and improved connectivity of roads, especially the ring roads, have contributed to increasing property value over time, attracting several local and overseas investors.
Apartments on installments in Lahore
For people looking for budget-friendly options, apartments on installments in Lahore are the best solution as they are usually available in easy installments. The payment plan spanning 4 years allows investors to spread the cost over a defined period, which is more accessible for those having a limited budget.
Apartments on Installments in Bahria Town Lahore
Bahria Town Lahore offers a range of apartment projects where investors and homebuyers can purchase units in easy installments. Apartments on Installments in Bahria Town Lahore have made investing in real estate convenient for many individuals without significantly straining their finances.
Apartments in Bahria Orchard
Bahria Orchard offers a wide range of well-designed and luxurious apartments to cater to local and overseas Pakistanis. The apartments in Bahria Orchard are available in various sizes, making them suitable for families of different sizes and preferences.
Why is Investing in Skyscrapers a Good Idea?
Investing in Skyscrapers is a Good Idea because as the population increases, higher demand for commercial and residential spaces in cities is created. Skyscrapers accommodate a large number of people and businesses in a limited space in a prime location of the city, leading to significant rental income potential. Taller buildings often become landmarks and symbols of a city's growth and development, which attracts tourists from all over the world.
Investing in Skyscrapers
Investing in skyscrapers is usually a long-term plan if the investment is made at the early stages of construction, offering potential returns by the time of completion and benefits even more when it becomes operational.
Tallest building Lahore
High competition is going in for the tallest building in Lahore with the construction of skyscrapers. Now and then, we keep hearing tallest building in Lahore has started its construction. So far, Lahore's tallest buildings include Arfa Kareem Tower, Pace Tower, Indigo Heights, and Tricon Towers.
High-rise buildings in Lahore
There are many high-rise buildings in Lahore, and the list is increasing daily with the completion of under-construction projects. Some of the upcoming tallest buildings in Lahore are Mubarak Center, Orient Square, Nova Prime, and Bahria Sky, which are expected to be completed by 2027.
The highest building in Bahria Town
The current tallest building in Pakistan is the Bahria Icon Tower in Karachi, the highest building in Bahria town Karachi. Upon its completion, it will change the skyline of Karachi with its 62 floors and height to its spire tip of 273 m (896 ft). Same as when Bahria Sky will Complete, it will change the Skyline of Lahore.